Click on a number to learn more
Built for Dry, Built for America
The compact design of the MTS Dino 4.5 LT includes a variety of features that increase dry material excavation volume. The MTS Dino 4.5 LT combines over 30 years of proven engineering, with premium upgrades like the Mattie M135 compressor, delivering 360 cfm at pressures up to 185 psi. When paired with the appropriately designed nozzle for optimizing the air stream and its corresponding focal point, dry excavation in the toughest soil conditions is no longer an issue.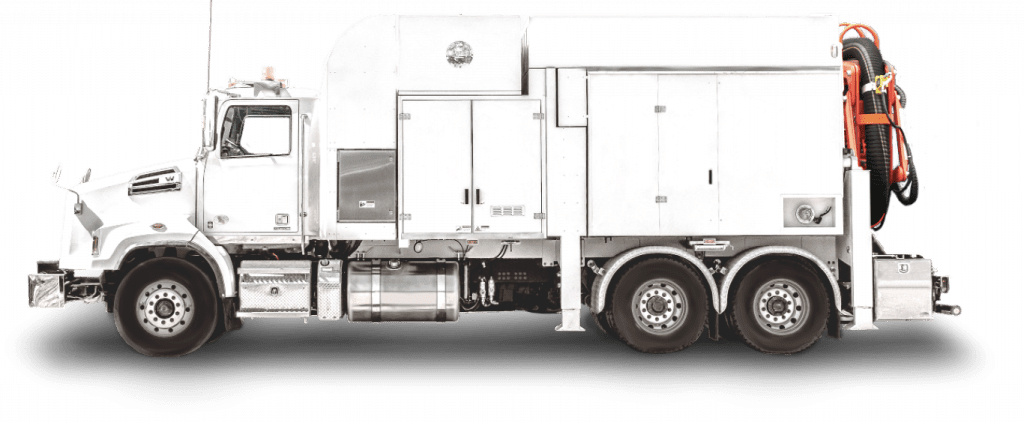 Also included are the MTS Power Arm which allows for precise positioning, as well as the IKE excavating system for increased versatility in all-clear scenarios. The MTS Dino 4.5 LT stainless-steel bin liner and side paneling allow for a longer life of the container by limiting possible corrosion issues and its pristine exterior surface creates the perfect canvas for our customers to apply their own custom branding. Extra tooling, lighting and accessories all come standard, including the Air Spade™ air lance.
The vibrator system allows for easy offloading of materials from the side-tipping container, and Ox Equipment's unique boom/hose vibrator system effectively prevents clogging issues often associated with sticky and dry vacuum materials.
The MTS Dino 4.5 LT addresses concerns around axle weights, allowing for additional carry capacity when on-site dumping is not available and also ensuring that when the unit is empty it remains legal.
The MTS Dino 4.5 LT suction excavator brings the highest level of engineering that MTS has to offer so that this purpose-built package can stand alone in the North American vacuum excavation industry. Known for its unmatched power, the MTS Dino 4.5 LT will allow your company to deliver higher throughput on dry vacuum excavation processes, all while eliminating slurry, over-weight fines, and unnecessary trips to the dump site and water filling station.